The Greatest Morale Booster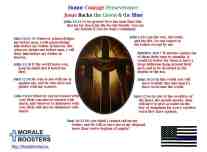 Jesus Christ gave His life for those who love Him, those who don't care, and even those who hate Him. This is the sacrifice many Law Enforcement Officers have also made, and are willing to make, when they put on the uniform. Jesus, the Greatest Morale Booster, loves and supports Law Enforcement Officers. And so do we.

The less the world knows about Jesus, the more they like Him, but the more they know about Him as revealed in Scripture, the less they like Him.
Below are a few of Jesus' words and actions. They are uncompromising, challenging, and surprising -- particularly for those who believe in a Jesus of their own making, a Jesus who tolerates continual sin, and loves everyone into heaven regardless.
Whether or not His words surprise you, we hope you know (or get to know) the real Jesus and accept Him as Lord and Savior. He will always be there for you -- and boost your morale!
Matthew 14:27 Take courage! It is I. Don't be afraid.

Mark 4:37-39 A furious squall came up, and the waves broke over the boat, so that it was nearly swamped. Jesus was in the stern, sleeping on a cushion. The disciples woke him and said to him, "Teacher, don't you care if we drown?" He got up, rebuked the wind and said to the waves, "Quiet! Be still!" Then the wind died down and it was completely calm. He said to his disciples, "Why are you so afraid? Do you still have no faith?"

Luke 7:13-15 When the Lord saw her, his heart went out to her and he said, "Don't cry." Then He went up and touched the bier they were carrying him on, and the bearers stood still. He said, "Young man, I say to you, get up!" The dead man sat up and began to talk, and Jesus gave him back to his mother.

John 16:33 In this world you will have trouble; but take heart! I have overcome the world.

Matthew 12:30 He who is not with me is against me, and he who does not gather with me scatters.

John 14:6​ I am the Way, the Truth, and the Life. No one comes to the Father except by me.

Matt 10:32-33 Whoever acknowledges me before men, I will acknowledge him before my Father in heaven. But whoever denies me before men, I will deny him before my Father in heaven.

John 15:18-19 If the world hates you, keep in mind that it hated me first. If you belonged to the world, it would love you as its own. As it is, you do not belong to the world, but I have chosen you out of the world. That is why the world hates you.

Luke 16:10 Whoever can be trusted with very little can also be trusted with much, and whoever is dishonest with very little will also be dishonest with much.

John 16:23-24 I tell you the truth, the Father will give you whatever you ask in my name. Until now, you have not asked for anything in my name. Ask and you will receive, and your joy will be complete.
Proofs of Christ's Resurrection
1. A doctor certified His death (Luke 23:44-55)
2. An empty tomb (Matt. 28:1-7)
3. Fulfilled prophecy (Acts 2:22-32)
4. Many credible witnesses (Matt. 28:1-10; 1 Cor. 15:1-11)
5. Jesus' own words (Matt. 12:39-40; 16:21)
6. An official cover-up by Jesus' enemies (Matt. 28:11-15)
7. The boldness and eventual martyrdom of the disciples (John 20:19; Acts 2:14-30; 4:13)
8. Paul's radical conversion (Acts 9:1-30; 22:5-13)
9. The switch to Sunday as a day of worship (Acts 20:7; 1 Cor. 16:2)
10. The Christian church as a force in this world (Matt. 16:18; 28:18-20)
11. Continuing evidence of those who have been born again into a living hope through Christ (1 Peter 1:3)